12 May 2023
Nan Fung Group's flagship mixed-use complex "AIRSIDE" to soft open in Q3 2023
Impact Retail meets Creativity  10,000 sq. ft. of art & cultural space
Proudly introducing the city's first automatic bicycle parking system to encourage green mobility
Kai Tak MTR Station exit connecting AIRSIDE to complete simultaneously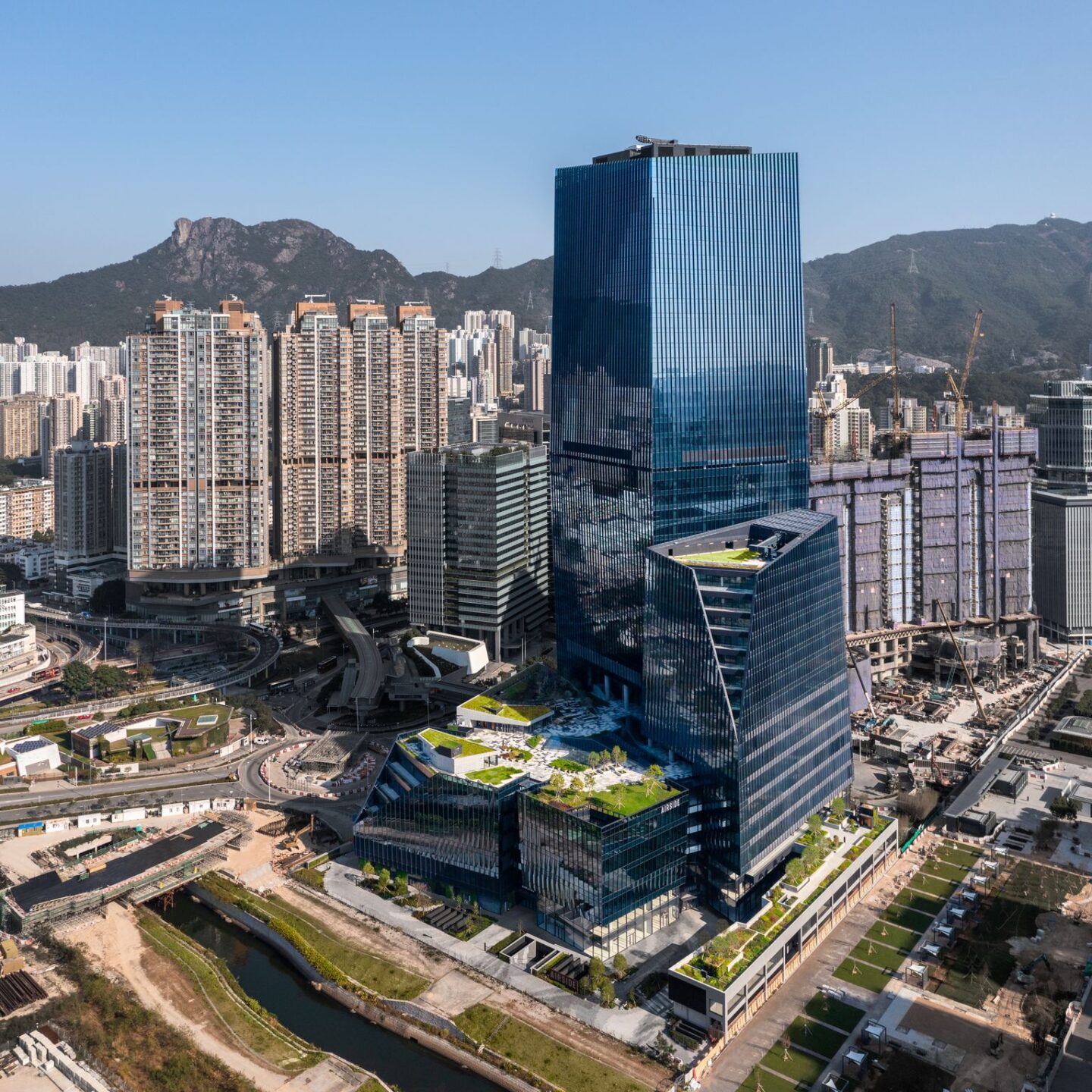 (Hong Kong – 10 May 2023) – Nan Fung Group (Nan Fung) is pleased to announce the soft opening of AIRSIDE, a 1.9 million sq.-ft., 47-storey mixed-use commercial development in the Kai Tak area in Q3 2023.
The skyscraper comes with 32 storeys of Grade A office space, of which around 400,000 sq. ft. has already been pre-leased to three renowned global corporations and Nan Fung's core business units. The premium property is fetching an average rent ranging from HK$35 – 49 per sq. ft., which is nearly double the rent of other Grade A commercial buildings in Kowloon East, averaged at HK$25 per sq. ft. The 700,000 sq.ft. mall is set to offer visitors a brand new one-stop shopping experience and its overall leasing performance is satisfactory, with almost 80% of the mall space already leased. Kai Tak MTR's AIRSIDE exit will come into operation in conjunction with the mall's soft opening.
Vanessa Cheung, Group Managing Director of Nan Fung Group, says, "AIRSIDE is the flagship development project of Nan Fung Group. It embodies our commitment to fostering a community in which tenants can achieve their sustainability and social goals with people-centric designs and facilities. The current leasing momentum is also a testament to the market's resurging confidence post-pandemic," says Cheung. "As Hong Kong's CBD 2.0, the Kai Tak Development area is home to several key infrastructural projects, which propels the development of the area as well as Hong Kong as a whole. We look forward to the opening of AIRSIDE and we are grateful to our tenants for their unwavering support along the way. We are excited to explore with our tenants and community the possibilities of AIRSIDE as 'a place for wholeness' and sustainable living."
Prime locality attracts key multinational corporate tenants
Strategically located in the heart of Kowloon's Central Business District (CBD), AIRSIDE is seamlessly integrated into the area's comprehensive local and cross-border transportation networks. With the Shatin-to-Central Link and the Tuen Ma Line, it takes only 20 minutes to reach Central from AIRSIDE, and 40 minutes to reach the Hong Kong International Airport and the Shenzhen border – an unparalleled convenience for international and cross-border business activities.
Following the earlier leasing of leading French manufacturer Groupe SEB and Japanese multinational technology company Konica Minolta Business Solutions (HK) Ltd., a subsidiary of Japan's largest financial group has recently confirmed its tenancy at AIRSIDE, cementing the destination as a coveted location for top-tier global corporations.
The Japanese financial group's spokesperson comments, "As Hong Kong's CBD 2.0, the Kai Tak Development Area stands out as the ideal location for global enterprises. We have chosen AIRSIDE for its highly convenient and premium position, as well as its fully integrated state-of-the-art Grade A office and retail space. AIRSIDE's future-proof infrastructure and sustainability provisions were also key factors in fuelling our decision to lease space at the complex, on account of our shared vision of sustainability."
Smart environmental initiatives to realise sustainability goals
AIRSIDE has adopted the United Nations Sustainable Development Goals (UNSDGs) as the design blueprint to facilitate a green, low-carbon lifestyle. It is the first building in Hong Kong to receive five of the most recognised green building certifications. A number of innovative facilities which meets international standards are introduced, including Hong Kong's first-ever Automatic Refuse Collection System, which offers real-time data to aid waste reduction in day-to-day operations, a valuable feature to facilitate tenants in the upcoming implementation of the waste charging scheme.
AIRSIDE is the first commercial development to adopt Electrical & Mechanical Services Department's (EMSD) Kai Tak District Cooling System (DCS) in Hong Kong, which saves around 839,300 kilowatts of electricity and offsets 587 tonnes of carbon emissions annually. This creates ample space on the roof to allow for the installation of Hong Kong's largest office building monocrystalline PV farm and walkable PV, generating 270,000 kWh/year, comparable to the electricity consumption of around 700 residential flats in Hong Kong per month. These implementations together offset a total of 776 tonnes of carbon emissions, which is tantamount to the planting of 12,800 trees.
To encourage green mobility, AIRSIDE is introducing Hong Kong's first-ever smart bicycle parking system, equipped with 48 parking spaces. All of AIRSIDE's 850 car parking spaces are equipped with electric vehicle (EV) charging facilities.
Green living through unique "wholeness" concept and impact retail
Building on Nan Fung's ongoing efforts and commitment to sustainability, AIRSIDE introduces the unique and innovative urban lifestyle concept of "wholeness" that connects people and nature to build a sustainable, low-carbon society. As part of the wholeness lifestyle concept, AIRSIDE houses a 4,000 sq.ft. urban farm that is home to over 50 varieties of produce, which is supplied to F&B outlets at the mall to offer a true farm-to-table experience for visitors; the remaining produce will be shared with the community. With the urban farm, AIRSIDE hopes to promote a low-carbon-footprint lifestyle and nature-based solutions to the public.
Embracing art & culture in our lifestyles
AIRSIDE fosters social interaction with stakeholders from all walks of life to build a healthy, low-carbon community. This includes inviting community designers, artists and craftsmen to curate workshops and integrate the artisan spirit of pursuing innovation and perfection into our daily lives.
AIRSIDE dedicates over 10,000 sq. ft. of space to art and culture: the mall will host a diverse range of exhibitions and programmes to spark dialogues and inspire imagination. The 3,000 sq. ft. Gate 33 Gallery will showcase regular art and cultural exhibitions curated by AIRSIDE's professional team. Visitors can also explore commissioned art works across various mediums inspired by AIRSIDE to invigorate the space with a distinctive artistic vision.
An urban getaway offering world-class dining, retail, and entertainment
AIRSIDE combines leisure, culture, and green living lifestyles all under one roof. With 700,000 sq. ft. of retail space, the multi-storey shopping mall will bring a unique mix of premium tenants, including home-grown brands, international cuisines, and experiential retail. Anchors will include the 25,000 sq. ft. mega lifestyle specialty store 'city'super', as well as the 12,000 sq.ft. Japanese lifestyle store 'MUJI', to meet visitors' every need.
The mall also boasts around 40 F&B outlets to offer a multitude of dining delights, including international and local cuisines, patisseries, instagrammable cafés, tea houses, and more. In addition to AIRSIDE's line-up of chic, contemporary restaurants, there is also the multi-concept food hall, as well as pet-friendly alfresco dining areas. Dining at AIRSIDE promises to be a great foodie experience for all.
AIRSIDE is a must-visit leisure destination that offers an array of world-class entertainment, including Hong Kong's first large-scale indoor surfing centre of over 10,000 sq. ft. The centre also features a restaurant and allows water sports enthusiasts to enjoy surfing year-round. The brand new MCL AIRSIDE Cinema, spanning over 30,000 sq. ft. and comprising 7 cinema houses, can accommodate up to 900 movie-goers – the perfect addition for cinephiles.
AIRSIDE is a pet-friendly hub that strives to promote wellness for all, including our beloved furry friends. Apart from a wide selection of pet shops and professional pet grooming and care services, the mall will also be dedicating ample outdoor green space as pet-friendly areas, such that pet owners, and their fuzzy companions can enjoy quality time together.
-END-
High Resolution Images:
https://www.dropbox.com/scl/fo/58i5fzbhscgcuwhc3cjav/h?dl=0&rlkey=nyfmpxo8c5l7ltsr1p5y0chqo
Media Enquiries
Chance Communications
Chloe Hung / Mandy Chan
E: chloe@chancecomm.com / mandy@chancecomm.com
T: +852 6334 6038 / +852 9170 1121
Nan Fung Group
Amanda Lee
T: +852 2825 7342
Appendix 1 : Information about AIRSIDE
Gross Floor Area
·       1.9 million sq. ft. mixed-use commercial development

·       200m-high skyscraper

·       47-storey multi-complex

·       Grade A office and a multi-storey shopping mall with an interconnected underground shopping street

Land Bid
HK$24.6 billion land bid in 2017
Commercial Space
·       32-storey Grade A office, gross floor area of 1.2 million sq. ft.

·       The largest floor plates of approx. 32,000-53,000 sq. ft.

·       The 10th to 18th floors are connected floors with an area of 53,000 sq. ft.

Retail Space
Total 700,000 sq. ft.
Design Architect
Snøhetta
Five highly recognised green-building certifications
WELL Core Platinum – AIRSIDE Office (International Well Building Institute)

LEED v4 Building Design and Construction: Core and Shell Development – Platinum (U.S Green Building Council & Green Business Certification Inc.)

BEAM Plus Neighbourhood (ND) V1.0 Platinum (Hong Kong Green Building Council)

BEAM Plus New Building (NB) V1.2 Platinum Provisional Certificate (Hong Kong Green Building Council)

Certificate of Green Building Design Label – 3 Stars (China Green Building (HK) Council)

Advanced sustainable facilities
First in Hong Kong to employ the Automatic Refuse Collection System

First commercial complex in Hong Kong to connect to the Kai Tak District Cooling System

First in Hong Kong to introduce the Automatic Bicycle Parking System

Largest commercial-building PV farm in Hong Kong with walkable and monocrystalline PV

Carpark
Offers 850 parking spaces, 100% equipped with electric vehicle (EV) charging facilities
Opening
Q3 2023 (Soft Opening)
About AIRSIDE

AIRSIDE is a 1.9 million sq. ft. mixed-use commercial development in the Kai Tak area. Situated in Kowloon's Central Business District, the 47-storey development comprises a 32-storey Grade A office, and a 700,000 sq. ft. multi-storey shopping mall interconnected with an underground shopping street. AIRSIDE embraces a new urban lifestyle concept of Wholeness, integrating sustainable living with cultural and lifestyle experiences.
About Nan Fung Group
 
Nan Fung Development Limited is a subsidiary of the Nan Fung Group, one of the largest privately held conglomerates in Hong Kong with global interests in real estate development and investment. It holds a well-diversified and substantial financial investment portfolio. The Group was founded in 1954 and has a track record spanning more than 50 years with over 165 projects including residential, commercial and industrial buildings. The Group also strategically focuses on first-tier cities in mainland China and recognises attractive opportunities for development and investment overseas, including New York and London.
In recent years, the Group has expanded its investment focus to ICE (Innovation, Creativity and Entrepreneurship), exemplified by its signature project, The Mills, a revitalisation of its legacy yarn factories into a hub promoting techstyle (intersection of technology and style) and an integrated destination housing an experiential shopfloor, startup incubator and interactive gallery. The Group has also made significant progress in investments related to life sciences in the US via Pivotal; and in mainland China via an affiliate, New Frontier, which focuses on healthcare, elderly care, education, and new technology.